Resources and Links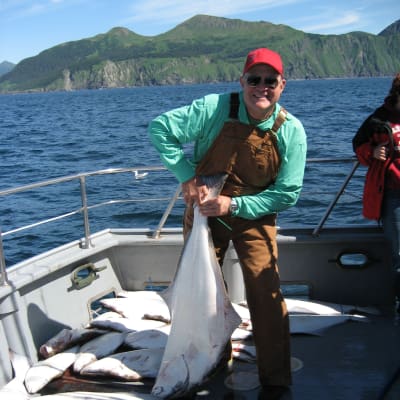 Exploring the Kenai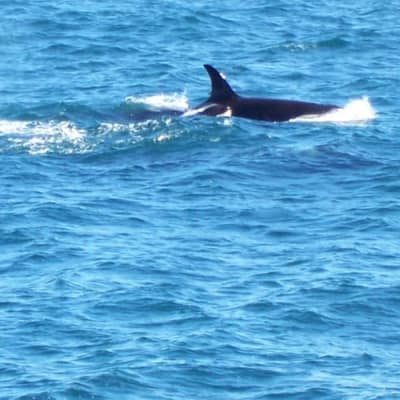 The Kenai Peninsula has a special place in the heart of most Alaska residents; Alaskans for miles around use the peninsula just as any other tourist for its fishing bounty, beautiful boating locations at Whittier, Homer and Seward, as well as nature trails, hiking and wildlife viewing, and community events.
FRESHWATER FISHING
Probably the best known fishing is for Salmon – see a listing of our guides here. The season actually starts in late April when Rainbow Trout start coming in. In addition to rainbows you'll see Alaska Dolly Varden and Alaska Arctic Grayling. Rainbows get up to 10 pounds – nothing like their cousin the King Salmon, but for sheer beauty and an enjoyable fishing experience they can't be beat.
Alaska King Salmon fishing begins in Mid-may, and closes on July 13th. The record King Salmon is nearly 100 pounds, and a huge 68 pound King was caught on the Talkeetna River which may have been the largest King catch of 2005. After the King Salmon season comes to a close, the season for Silver Salmon (Cohos), Sockeye Salmon (Reds), Chum and Pink Salmon begins. This runs well into September, followed by trout fishing somewhere in October. There are various methods of fishing for salmon, but the most popular freshwater method is snagging. Salmon which swim upstream to spawn are typically in "fasting" mode and do not "strike" at bait. It is more a matter of "flossing their teeth" with a hook as they swim up the stream. It makes all the difference to have a good guide to show you how!
OCEAN FISHING
On the ocean, salmon fishing is permissible with bait, and can be done with a standard rod and reel or by trolling a line from a slow-moving boat. Salmon are enthusiastic fighters when caught and can really put a smile on your face if you a new fisherman.
As the salmon move, ocean halibut move along with them. Halibut are considered "white gold" and represent a large part of the Kenai peninsula with more than a few fisherman's dreams of catching a "barn door" halibut – one weighing over one hundred pounds or more. Truth be told, "smaller" halibut and by that we mean in the 60 pound range are actually better eating; also, almost all large halibut are females and should be considered breeding stock if at all possible. We can recommend several reliable halibut charters, click here for more information.
CLAMS
If you want a really exciting experience for your children, go to clam gulch. It doesn't take many of these typically large clams to make a great chowder. We recommend using our specialized clam digging shovel and bucket, instructions included. You can think of the clams as low-calorie given the work you'll put into finding them. Click here for more information on Razor Clams. Click here for tips on how to dig for clams effectively without breaking the shell.
SIGHTS TO SEE
CHALLENGER LEARNING CENTER OF ALASKA, Kenai Alaska. Is a non-profit corporation that opened in April 2000. We are the 39th of 52 centers in the Challenger Learning Center for Space Education international network. This is a network created in 1986 by the families of the astronauts lost in the Challenger 51-L mission. The purpose of this network, is to continue that crew's aim of engaging students in the study of science, math and technology.
The River Center, Soldotna Alaska. Was created to increase coordination and communication between permitting agencies in order to streamline the permitting process for landowners and improve protection of the Kenai Peninsula's natural resources. The River Center is also designed to serve as a source of information and education for landowners and others concerned with resource management.
Alaska Sealife Center, Seward Alaska. Alaska's only public aquarium and ocean wildlife rescue center is celebrating ten years on the shores of Resurrection Bay. Visitors to this "window on the sea" have close encounters with puffins, octopus, sea lions and other sealife while peeking over the shoulders of ocean scientists studying Alaska's rich seas and diverse sealife
MUSEUMS
The Pratt Museum, Homer Alaska. On the shores of Kachemak Bay, approximately 200 miles south of Anchorage, on the Kenai Peninsula. Kachemak Bay, located on the southeast part of Cook Inlet, is circled by mountains, glaciers, and active volcanoes. The region's four national parks, five national wildlife refuges, state parks and critical habitat areas support a diversity of wildlife, from seabirds and sea lions to brown bears and the endangered humpback whale. Kachemak Bay is the largest of 23 sites in the National Estuarine Research Reserve System (NERRS) in the nation, and the only one in Alaska.
BOATING
If you have a boat, we recommend the newly-opened Whittier tunnel. For about 20 dollars round trip, you can go from either Anchorage or Soldotna area of the peninsula, through a two mile tunnel into a glacial mountain, and out the other side into Whittier Alaska. From Whittier's harbor you can explore the Prince William Sound area. There are several chartered boat lines which run for a day, and cruise ships regularly port in Whittier. See sea lions, otters, and other creatures, as well as calving glaciers and amazing coastline. If you go ashore, remember to take mosquito repellent – the mosquito is sometimes referred to as the "state bird of Alaska"
MORE THAN JUST FISHING IN JULY
For the adventurous, the months of September, October and November provide for stunning change of colors, wildlife viewing and hiking, and occasionally cross country skiing toward November. To the north there is Alyeska Resort, hiking along Turnagain Arm and the Chugach Mountain Range. To the south there are historic Homer and Seward, along with Exit Glacier
Penninsula Activites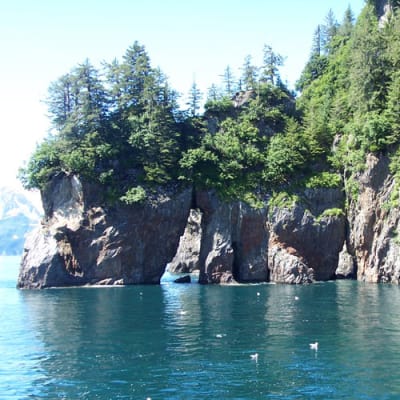 The resort is on 25 acres on the shores of St Theresas Lake. The cabins are surrounding the main lodge and kitchen / dining room. There are lots activity at the resort for the you to do. Canoeing, swimming, play miniature golf or at night sitting around the camp fire at the fire pit. The main lodge as satellite TV, DVD / Video, Wireless computer access, WIFI and large assortment or games and puzzles.
There are other activities that are available to do on the Peninsula. We can book and re-arrange the package to suit your group.

KENAI FJORDS
A Kenai Fjords trip is a 55 mile roundtrip adventure cruise into the exciting world of Alaska's wildlife. Our half day Alaska wildlife cruises travel throughout the pristine waters of Resurrection Bay to allow for up close encounters with wildlife. The wildlife cruise will be guided alongside large bird rookeries and sea lion colonies, making plenty of stops for pictures and to view passing whales and sea otters. You will also have the opportunity to view several types of glaciers, including the enormous Bear Glacier which is the largest glacier in the Kenai Fjords National Park. all cruises are hosted by a National Park Ranger who will provide expert insight into wildlife, glaciers and natural history of the area, including events such as the 1964 Great Alaska Earthquake.
*Additional charge (includes all you can eat prime rib and salmon buffet.)

KENAI RIVER SCENIC FLOAT
Kenai River Scenic Float a serene 2-hour float along a non-motorized stretch of the scenic Upper Kenai River. Have your camera ready as we keep a keen watch for moose, eagles, Dall sheep, salmon, waterfowl, beaver, and bears as your guide navigates you through the snow-capped mountain scenery of the Kenai National Wildlife Refuge.
*Additional charge (includes lunch.)

KENAI CANYON RAFT TRIP
Kenai Canyon Raft Trip for those seeking a bit of adventure, for a fun-filled 7-hour day of exploration into unspoiled Alaska wilderness that most travelers never see. Start with a scenic float searching for moose, bald eagles, and salmon, then ride the Class II+ spirited rapids through the Kenai River Canyon. End with a cruise along the wild and scenic shore of a glacier-carved lake in the heart of the Kenai National Wildlife Refuge.
*Additional charge (includes lunch.)

TWO HOUR TRAIL RIDE
Two Hour Trail Ride Spectacular valley views, clear mountain streams, thick forests and breath taking Kenai Lake makes this a great trip. We offer a variety of trail choices to meet rider's abilities.
*Additional charge (includes lunch.)

HALF DAY ADVENTURE
Half Day Adventure High country riding, a thrilling trail, spectacular views and great horses make this trip one of the finest in Alaska. Often we view Dall Sheep on the rock wall above as we ride along the base of Mt. Langille. Enjoy an Alaskan snack mid-way. You'll take this trip home with you
*Additional charge (includes lunch.)
What to Pack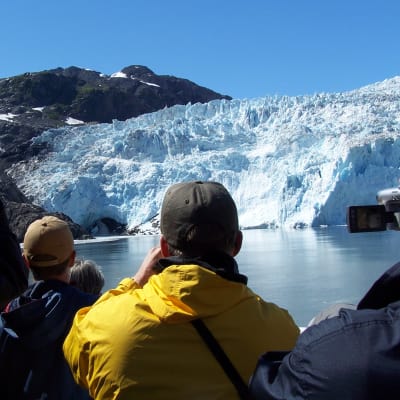 Things to Bring:
Alaska's summer weather is fickle, where temperatures may range from the 30's to mid 90's (sometimes even in the same day!) Please keep in mind that there is very limited luggage space in the vehicles. Laundry facilities are available at St Theresas Lakeside Resort.
Clothing
Turtlenecks or medium weight long sleeved shirts
Wool/wool-blend or fleece sweater
Short sleeved t-shirts
Jeans or comfortable pants
Shorts
Medium weight polar fleece or pile jacket
2 piece rain suit with hood (breathable Gore-tex or waterproof nylon material)
Light to medium weight long underwear, top and bottom (silk or polypropylene preferred).
Wool/wool blend socks
Lightweight wool or polar fleece gloves & hat
Comfortable shoes (sneakers…)
Bring your laptop computer, we have wireless Wi-Fi, to connect you to your family and friends and send them real-time photos and stories of your Alaskan Adventures … from the privacy of your own cabin.
camera & film / video camera and batteries / binoculars
ear plugs (if you're sharing a room…) ((we'll provide))
eye shades (it could be light all night!)
sunglasses
sunscreen / insect repellent (preferably with Deet)
personal toiletries
This list is merely a suggestion for what to bring, as everyone's idea of packing for a trip varies widely. Amounts of each article of clothing also vary depending on the length of trip. Most folks find that they bring far more than they ever need or use. Remember you will be bringing home fish!
We will always do everything we can do to makes sure your trip is everything you expected and more. Please call for more Information and / or email with any questions on your once in a life time Alaskan adventure.
History of Soldotna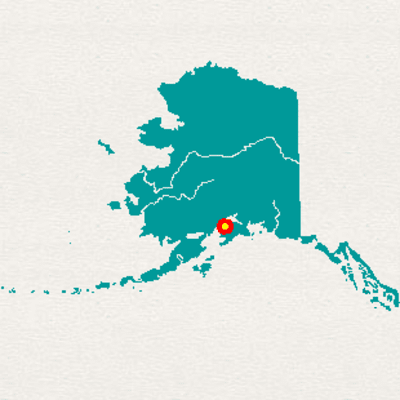 Soldotna is on the Kenai Peninsula, 150 highway miles south of Anchorage, at the junction of the Sterling and Kenai Spur Highways. It lies 10 miles inland from Cook Inlet, and borders the Kenai River. The area encompasses 7 sq. miles of land and 1 sq. miles of water. It is named after nearby Soldotna Creek.
The Peninsula has historically been the home to Kenaitze Indians, and was developed by non-Natives for its rich resources, including fish, timber and oil. Soldotna was named for a nearby stream; it is a Russian word meaning "soldier." Others believe it is derived from an Indian word meaning "stream fork." The first homesteaders were World War II veterans, given a 90-day preference over non-veterans in selecting and filing for property in 1947. That same year, the Sterling highway right-of-way was constructed from Cooper Landing to Kenai. Soldotna was the site for the bridge crossing the Kenai River. A post office opened in 1949, with stores and a community center shortly thereafter. Soldotna continued to develop because of its strategic location at the Sterling-Kenai Spur Highway junction. In 1957, oil was discovered in the Swanson River region, bringing new growth and development. Soldotna was incorporated as a city in 1960.
Sport fishing and tourism are currently the mainstays of the economy in Soldotna. It also receives some economic advantage from being the seat of the Kenai Peninsula Borough.
History of the Kenai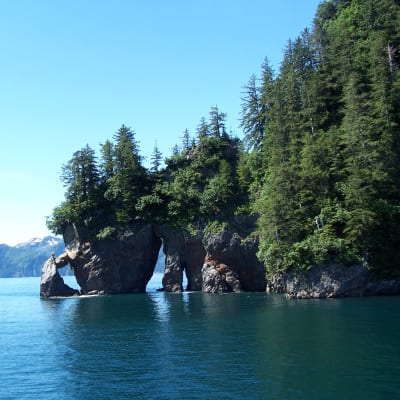 THE HISTORY OF KENAI AND THE KENAI PENINSULA
Kenai is located on the western coast of the Kenai Peninsula, fronting Cook Inlet. It lies on the western boundary of the Kenai National Wildlife Refuge, on the Kenai Spur highway. It is approximately 65 air miles and 155 highway miles southwest of Anchorage via the Sterling highway. The community is located in the Kenai Recording District. The area encompasses 29 sq. miles of land and 5 sq. miles of water.
Prior to Russian settlement, Kenai was a Dena'ina Athabascan Indian village. Russian fur traders first arrived in 1741. At that time, about 1,000 Dena'ina lived in the village of Shk'ituk't, near the River. The traders called the people "Kenaitze," or "Kenai people." In 1791, a fortified Russian trading post, Fort St. Nicholas, was constructed for fur and fish trading. It was the second permanent Russian settlement in Alaska. Hostilities surfaced between the natives and settlers in 1797 when what is dubbed the battle of Kenai, an incident in which the Dena'ina attacked Fort St. Nicholas, resulting in over one hundred deaths from all involved parties. Later, in 1838, the introduction of smallpox killed one half of the Dena'ina population.
In 1888 a prospector named Alexander King discovered gold on the Kenai Peninsula. The amount of gold was small compared to the later gold finds in the Klondike, Nome and Fairbanks.
In 1894, the Holy Assumption of the Virgin Mary Russian Orthodox Church was built in the village. It is still in use today.
The establishment of shipping companies in the early 1900's broadened Kenai into a port city. Canning companies were established and helped fuel the commercial fishing boom that was the primary activity through the 1920's. In 1937, construction of the Kenai Airport began.
In 1940, homesteads were opened in the area. The first dirt road from Anchorage was constructed in 1951; pavement would not arrive until 1956 with the construction of the Kenai Spur highway.
A military base, Wildwood Airforce Station, was established in 1953 and served as a major communications post. Though now defunct, the building presently serves as the Wildwood Correctional Facility.
In 1957, oil was discovered at Swanson River, 20 miles northeast of Kenai. This was the first major oil discovery in Alaska. In 1965, offshore oil discoveries in Cook Inlet caused a period of rapid growth and a huge expansion of Anchorage
KENAI NATIONAL WILDLIFE REFUGE
The Kenai Refuge consists of the western slopes of the Kenai Mountains and forested lowlands bordering Cook Inlet. The lowlands are composed of spruce and birch forests intermingled with hundreds of lakes. The Kenai Mountains with their glaciers rise to more than 6,000 feet presenting a barrier on the southeastern boundary of the refuge. The refuge is a miniature Alaska, with some of all habitat types of Alaska-tundra, mountains, wetlands and forest.
Kenai Refuge was established by President Roosevelt to preserve and maintain the large population of moose on the Kenai Peninsula. In addition, the refuge is host to Dall sheep, mountain goat, caribou, coyote, wolf, grizzly bear, black bear, lynx, wolverine, beaver, small mammals and birds. Kenai Refuge provides undisturbed spawning for many Cook Inlet salmon.
VISITOR USE
The refuge is accessible from the Sterling Highway. Travelers are treated to a panoramic view along the 110 mile drive from Anchorage to Kenai's mid-eastern boundary. Fishing is excellent. There are over 200 miles of established trails and routes including the Swanson River Canoe Trail. Visitors can fly to remote lakes, take horse pack trips into roadless areas or float a whitewater river. Developed facilities are available year round for day and overnight camping
ACCESS
Scheduled air taxi and air charter. Road access is from Anchorage via the Seward/Sterling/Kenai Spur Highways.